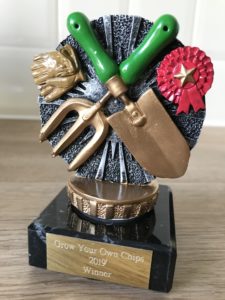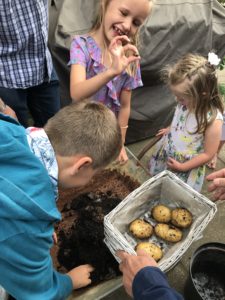 One of my projects this year has been a "Grow your own chips" event for my family. I hope to convey the fun we had in this blog, as well as the why, how and possible impact. If it inspires anyone else to do something similar – all the better.
For many years we have taken part in a potato party at our neighbour's house; each person receives a seed potato and a pot in early spring and we all meet for a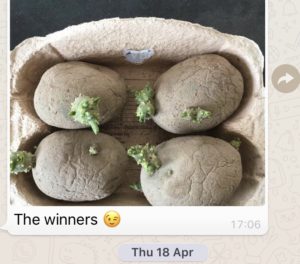 party end of summer to see who's grown the most. It's a great reason for a social. A year ago I had an idea that this could be extended to growing potatoes and making chips, so adding an extra dimension of appeal. I also wanted my family and especially my great nieces and nephews to have fun growing their own food.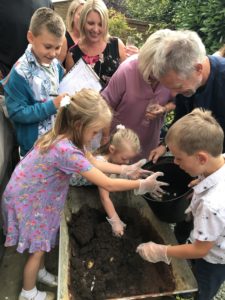 Most of my family live 200 miles away so I decided to try the idea out on them at my brother's house. Aside from my husband and I, we had 12 novice potato growers, spanning 3 generations and including 4 under 10 year olds.
Were they up for it? Yes they were. In February, I delivered them all a pot, a chitted potato, some compost and a sheet of instructions. We set the date for end of August and agreed to plant our potatoes around Easter weekend,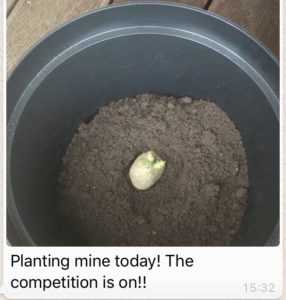 mid April. I set up a GYOC WhatsApp group, which was soon populated with competitive comments about whose potato was going to win. Over the summer, there were questions like – do they need to flower and what do you do if they do? Good question, if you haven't yet, or never, learned; or you have forgotten, that potatoes are tubers that are produced by vegetative (asexual) reproduction, so the sexual reproduction process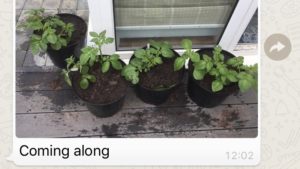 involving flowers that produces variation is not critical to how many potatoes you can grow.
One thing that makes this competition such a winning idea, is that you just can't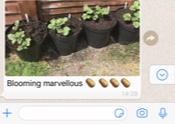 tell how many potatoes are in your pot until you empty them. The lushest and most healthy-looking foliage can mean just that, the plant is happy growing more leaves, rather than storing its energy reserves in its below-ground tubers. Conversely, after a good period of growth, the leaves may die but there might be masses of potatoes in the soil.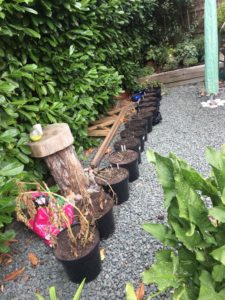 To the day itself. With great excitement, we all arrived with our pots and they were lined up ready to be emptied and weighed, every one of us hoping ours would not be a disaster. There were a few of course, including one zero weight that was very disappointing for my 9 year-old great-nephew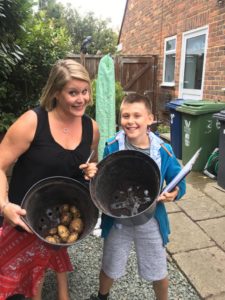 , until we discussed it and learned that his plant died very early; a picture taken then showed the leaves were quite yellow, so this plant was probably infected by something. It happens and it was a valuable lesson for all.
Next, the chipping event that my husband was in charge of.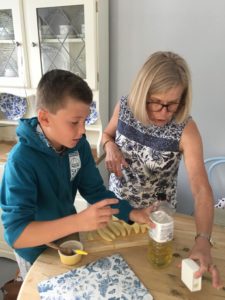 Each of the four children chose an adult to team up with and together they peeled and cut one of their potatoes into chips, basting with oil and seasoning them before cooking in the oven, no deep-fat frying. The remaining adults judged the winners and took this very seriously.
Time then for a potato quiz and a bit of discussion about the answers. When I put the quiz together, I thought of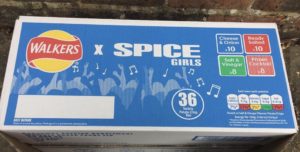 one of my past Biology BSc students, now working for Pepsico, who own Walkers crisps. I decided to ask him if they'd sponsor us some crisps for the event. He kindly did and these went down a storm.
The day was going brilliantly and now it was time for the award ceremony.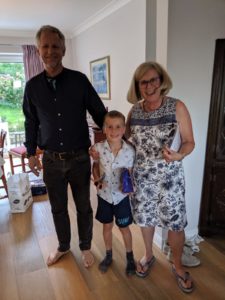 All children won an award, getting a Grow your own chips 2019 winner trophy and a prize. Overall winner of most potatoes was Nanny, giving us all inspiration to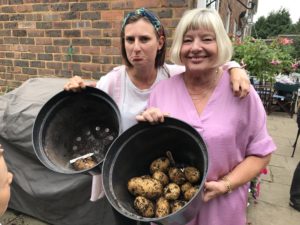 follow her example and do better next year.
So why is this worth writing about? We hope that we won't experience food shortages or reduced choices, even if they were to be short-term; but we might, whether due to climate change affecting production or trading affecting supply. A grow your own chips event will not lead to self-sufficiency but it's an opportunity to talk about many food-related issues, including healthy eating. What could be better than to share these with younger generations in a fun and reassuring way? To hear from my nieces that their children are super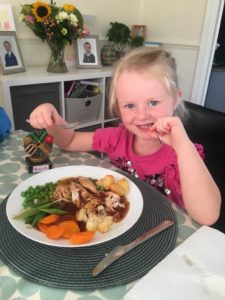 proud of their trophies and eating the potatoes they grew themselves is just fantastic. The fact that they have also learned something basic about how their food is grown and how to do it themselves is what I call plant science education. This can be learned at home just as well as at school.
My lovely family also humoured me by giving me feedback on the day – these are some of their comments.
"It was good to grow the potatoes in pots and show what can be achieved in small areas"
"I have already told lots of my friends about the event during the last 6 months and having seen the photos, at least one is considering the same for her family next year"
"Loved it! Had so much fun and now want to get better"
"We shall definitely try growing potatoes again and are inspired to try other things too. Am sure we could have our own street potato party"
Instructions sent last year and quiz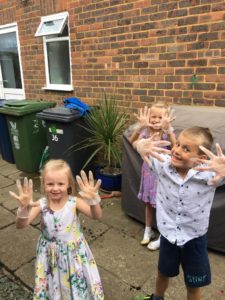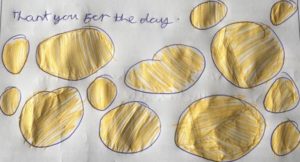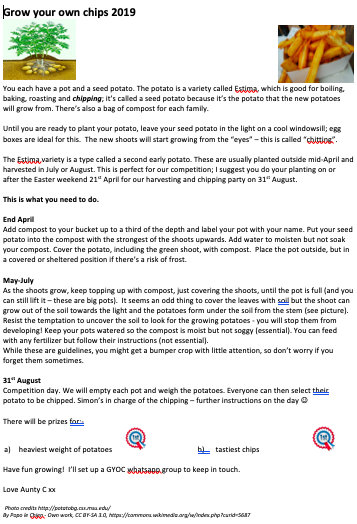 Quiz