After only 1 year, the plant health professional register was nominated for a Civil Service Skills Award and shortlisted. http://www.civilserviceawards.com
As one of three on the shortlist, 4 guests were invited to attend the award ceremony at Lancaster House on 24th November. I was honoured to be one of the team and delighted to join Prof Nicola Spence, Defra's chief plant health officer, Dr Charles Lane (Fera Science Ltd Skills lead) and Ged Hayward (Training manager at APHA). We represented all those who have been involved to date from APHA, Defra, Fera Science, SASA, Forestry Commission, DAERA, NRWales and the Royal Society of Biology.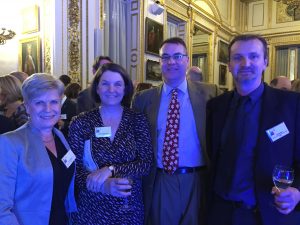 The evening was great fun – Oscar style, we were in suspense to the last when we heard " And the winner is…." Not us on this occasion, but congratulations to a worthy winner and as we're already working on the next stage for the register, watch this space.