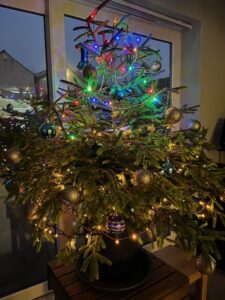 I thought I'd share some thoughts on renting a Christmas tree as this worked well for me this year. After 3 weeks hosting this lovely Norway spruce tree in our house, tomorrow I'll return it to Rooted in Todmorden https://www.rooted-christmastrees.com to be put back in the ground for another year. I was so impressed when I saw this idea on TV last year that I signed up for the newsletter and got an email alert when it was time to order.
Bringing a tree indoors is a big part of celebrating Christmas and it's quite a wrench to ditch this practice altogether; besides my daughter might not forgive me. Alternatives have their own sustainability problems and plastic is not for me. In recent years I've bought a local cut tree and used one charity or another to recycle; I've even used the cut branches to place around blueberry bushes to improve soil acidity. All options provide some justification but none address the fact that the cut tree industry has developed to satisfy our desire to maintain a tradition that is only about 150 years old started by Victoria and Albert. Nonetheless of course, this industry provides jobs and business for many people.
Could renting a tree become more widespread?  I'm interested to know how many trees survive the period indoors; temperature and water availability will be stresses that are hard to control in individual homes and will have some impact on the tree's ability to survive when put back in the ground in its pot. Rooted in Todmorden have a good plan to use trees as part of the Stop the Flow https://slowtheflow.net flood defence when they are no longer fit to grow on and I imagine it's still early days for them to know how many years a tree can survive their annual displacement.
I definitely want to look for a rented tree again next year and am hopeful that I might find a supplier closer to home so that I don't have to do a 50 mile round trip to collect and return (Rooted deliver to local addresses). Above all, I really liked the idea of bringing a living plant into the house and looking after it. As we continue to look for ways to educate children about the importance and value of trees to the planet and mankind, maybe there is more power in the message of looking after a living Christmas tree than the alternatives we are used to?