Spring has arrived and the Coronavirus lockdown means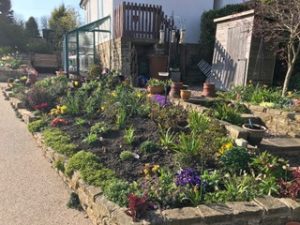 if we're lucky to have gardens we are likely giving them more attention. For this month's blog I'll be focussing on plant health in gardens and ways in which every one of us can support the International Year of Plant Health by the choices we make.
This is a time to source and buy plants. Many of us probably revert to habit at this time of year and why wouldn't we? With warmer, lighter days and gardening programmes presenting ideas, we become artists in our own homes and enjoy all the associated benefits for our health and well-being. Often through a combination of sound marketing and personal consumerism, we decide what we'd like our gardens or balconies to look like and then shop for the best deals to make it happen. What could possibly be wrong with that? Nothing explicitly, except that horticultural businesses respond to demand and sometimes the plants we choose are not best suited to our environment; if these grow under stress they can be susceptible to disease. The best deals may also come from imports which, if they were to escape regulation, could introduce pests and disease to the UK.
What can we do? Key organisations such as the RHS https://www.rhs.org.uk/science/plant-health-in-gardens and the HTA (Horticultural Trade Association) are working hard to promote plant health and biosecurity to ensure that all plants sold adhere to regulations. There have been recent changes worth noting. Since December 14th 2019, all plants sold to other professionals must carry a plant passport. In many cases plants have the passport attached to the individual pot or care card, so you may be able to see these on your purchases.
If you buy plants by means of a distance contract (for example online or through mail order), then you should be supplied with a plant passport, even if you are buying for personal use. In such cases a plant passport may be attached to the plant's pot, the package the plant travelled in, or on the delivery note within the package https://hta.org.uk/assurance-compliance/plant-passporting.html.
This month (April 2020), imports of some species have been banned to protect our trees and plants; these include olive trees and lavender to prevent Xylella fastidiosa entering the UK and threatening the health of many more species https://www.gov.uk/government/news/strict-new-controls-to-protect-the-uks-trees-and-plants-against-damaging-threats. You can read more about Xylella in my January blog https://celiaknightconsulting.co.uk/international-year-of-plant-health-january-2020/.
I write this as someone still challenged by this for my own garden and wrote blogs in 2018 and 2019 to encourage shoppers to look for the UK grown logo as a means of supporting suppliers of known good biosecurity practice https://celiaknightconsulting.co.uk/uk-grown-logo-look/ https://celiaknightconsulting.co.uk/spreading-the-word-look-for-the-uk-grown-logo/.
Unfortunately we now have the impact of the Covid-19 lockdown also to contend with. This is an extremely difficult time for nurseries who have a huge amount of stock to sell that can't be stored, but many nurseries are delivering and you can find stockists near you at https://plantsnearme.hta.org.uk so you could be helping local businesses too by choosing these suppliers.
The message is still a strong one, consumers can have an impact by encouraging suppliers to demonstrate their commitment to plant health and when internet shopping for plants, to have some consideration for whether the plant is suited to your space and where it was grown.
Simply by thinking about your choices of plants and talking with others about the issues, you will be supporting the International Year of Plant Health and contributing to the FAO's key message 2 https://celiaknightconsulting.co.uk/international-year-of-plant-health-what-does-that-mean-for-me/.