This week is the UK's National Plant Health Week.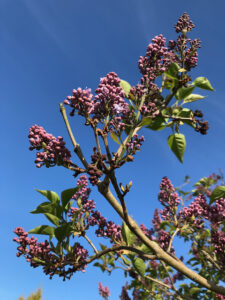 The purpose of a national week designation is to have a concentration of articles or events during a limited time to spark conversations, thoughts and hopefully actions. Twitter is alive already with tweets #PlantHealthWeek. Here are a few to show the range of organisations engaged.
Defra (Dept for Food and Rural Affairs) https://twitter.com/DefraGovUK/status/1391663240195624960?s=20
YPHA (Young people in Horticulture association) https://twitter.com/plantchief/status/1391686944250372096?s=20
APHA (Animal and Plant Health Agency) https://twitter.com/APHAgovuk/status/1391695738598473728?s=20
Check a Sweet Chestnut (citizen science project) https://twitter.com/Jassydrak/status/1391688714141814786?s=20
Scotland's Plant Health Centre https://twitter.com/PlantHealthScot/status/1391687482849304576?s=20
Earlham Institute https://twitter.com/EarlhamInst/status/1391694660247171074?s=20
Scottish Forestry https://twitter.com/scotforestry/status/1391668505687244801?s=20
BSPP (British Society for Plant Pathology) https://twitter.com/BS_PP/status/1391657201148825602?s=20
TSL (The Sainsbury Laboratory) https://twitter.com/TheSainsburyLab/status/1391722530558423045?s=20
The Woodland Trust https://twitter.com/WoodlandTrust/status/1391755314916114433?s=20
Fera Science https://twitter.com/FeraScience/status/1391731342757568513?s=20
Kew Gardens https://twitter.com/kewgardens/status/1391738567228067845?s=20
BBSRC (Biotechnology and Biological Sciences Research) https://twitter.com/BBSRC/status/1391711751939440640?s=20
BALI (British Association of Landscape Industries) https://twitter.com/BALI_Landscape/status/1391705872095752195?s=20
In my monthly blogs last year, I tried to relate plant health to aspects of my daily life and share these with friends and family i.e. those generally not interested or concerned with academic plant pathology. For me, this still represents an opportunity – in this plant health week, can we encourage more people to view keeping plants healthy as something everyone can contribute to? Without healthy plants, our food supplies and the outdoor spaces we take for granted are threatened and it's in all of our interests to protect these. Thanks to Covid, we should all now be aware how a disease can take hold and restrict our freedom, if not much worse. Unlike animal diseases though, we cannot vaccinate plants or treat with antibiotics to prevent spread; instead, we use surveillance and monitoring of disease so we can isolate infections and limit the disease. Here's the opportunity; lots of us handle or view plants in our gardens or on walks. A first step we all could take is to notice when a plant looks sick and then ask ourselves, is it just in my garden, or do neighbouring plants show it too? It shouldn't be a shameful admission either, if you like a tidy garden you can't escape infections completely as the disease agents are carried by wind and insects all the time. Clearly there is skill in identifying plant disease and this can provide rewarding careers https://www.rsb.org.uk/careers-and-cpd/registers/plant-health-register but you don't have to be an expert to notice big differences in the health of plants. If you identify something you're unsure of in your garden or locality, you could be helping protect UK plant health by reporting it https://planthealthportal.defra.gov.uk.